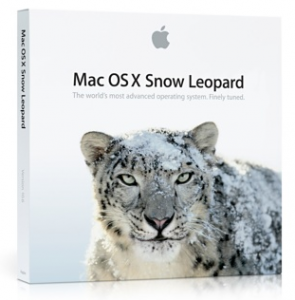 I ordered Snow Leopard from Amazon.Com and waited patiently for it to arrive.  I read up on some sites about things to watch for when I upgraded, etc., but nothing can prepare you for when you actually go and do it.
I opted to run Carbon Copy Cloner as suggested by one site found by Google to make a complete backup of the hard drive inside my MacBook Pro 17.  I tested by booting from the USB hard drive (hold down ALT at power up) to make sure I could "go back" if I had to by reversing the Carbon Copy Cloner step.
All of the FUD on the Internet was crap.  Everything just worked.  Until …
I had been working on my MacBook Pro 15 and the Snow Leopard blanked out (as my MBP17 normally does after about 20-30 minutes).  Working on another MacBook Pro is a suggested method for passing the time.  Yes, I suggest you have more than one Mac (if you're cool enough).  As I do sometimes, I swipe my finger across the trackpad to bring back whatever is on the screen.  When I did this, the keyboard illuminated, but nothing shown on the screens (I have a 24″ external).  The screen was black!  I thought maybe the brightness went out of range and pressed the "f2″ key to bring it up.  I see the dialog for the brightness level, but there's nothing on the screen.  I see the backlight getting brighter, but the screen is black … nothing there.  I try the volume and that shows on the 24" (which is set as the main display).  I Google on the MBP15 and find that people close their cover and open to a working Mac.  After I wake from sleep, moving the mouse I see it as the spinning beach ball that it is.  I hold down the power button to power off the Mac, there is no other choice.
Turn the MacBook Pro 17 on again and I have a working Snow Leopard.  All the things that "they" said didn't work work for me.  I installed the 10.6.1 update and iTunes 9.  So everything is up to date.  It happens again, same symptoms.  Black screens, can see volume and brightness dialogs when keys are hit, no mouse until after I sleep and wake to spinning beach ball mouse with black screens.
Google searching brings up black screen during the install, and some similar to my problem, but not all the same.  Some blame just on the install blanking and they can see images on their screen with no backlight.  I guess they're fine after they upgrade cause I see no follow ups.  I see more and more people blaming things having to do with the video or their video card.  Some it's playing games and some it's running VLC …  So I decided, mine "hangs" when the computer screen sleeps (that's SCREEN, my MacBook Pro never sleeps), so I think *screen saver!*
While the computer is running, I click on the Apple, go to System Preferences… into Desktop & Screen Saver.  Immediately, spinning beach ball.  Aha!  I can Force Quit System Preferences until I can get in there and click on the first screen saver I can click on to change it.  What was selected when it hung was a directory "Screen Savers" … I don't know where it came from – only thing I can think of was a shareware copy of that Aqua Marine fish tank-like screen saver that I never ended up buying.  I've been using Flurry forever (and that was my first thought when I thought it might be OpenGL or something, which never worked on my KDE installs on cheap PC hardware) and thought that might have been hanging the computer's video card or something.
So far so good, I will update if the longer the screen sleep gives different results.  Here's hoping this helped someone.